FAQ's
Are your products suitable for vegetarians & vegans?
Yes all our products are Vegan and Vegetarian. We are a cruelty free brand.
Can I take your vitamin supplements whilst pregnant or breastfeeding?
We would always advise speaking to your health care practitioner before starting to take any taking new supplements.
Do I mix the liquid with anything?
No, you simply take 1.5ml on/or under your tongue each day, thats it! They are all fruity in taste so taste great too.
When will I see changes in my skin?
We say allow 90 days for obvious improvements to be visible but our customers tell us they see changes from as soon as 4 weeks.
Do your vitamins contain gluten or diary?
No.
Can I take all 3 vitamins together?
Yes. All our vitamins can be taken alone or together. Each formula is unique to the skin complaint it targets & we understand people with breakout skin may still need hydration or anti-ageing benefits too so all supplements can be used safely alongside each other.
What's the difference in taking liquid supplements to capsules or powders?
We chose to create liquid vitamins for a number of key reasons, the most important being RUCI understands that all nutrients must be in liquid form before they can reach the cells in your body, where they are used. The closer the vitamins are to this form the faster and more completely they will be absorbed by your body. This makes our vitamins ready for absorption as soon as they are taken. We also find it much more convenient to simply take our liquid vitamins on the go, anywhere anytime and no need for water, a glass, mixing etc. The small bottle also means it can easily be taken with you on the go.
How long will the bottle last?
The bottle is a months supply, we included 33 servings per bottle to allow a couple of days extra use for our customer incase of delays with shipments etc. You take 1.5ml everyday. The dropper inside the amber bottle is marked for your ease with the correct serving amount. 
Is there a certain time of the day I should take my vitamins?
Its often advised to take vitamins first thing in the morning before you eat for best absorption. However we understand each person has their own routines and rituals so our advice would be implement taking your vitamins at a time that works for you so you remember to do it daily. Consistency is key.
Do you have any other questions? We would love to help!
You can reach out via our social media platforms or contact us at customerservice@ruci.uk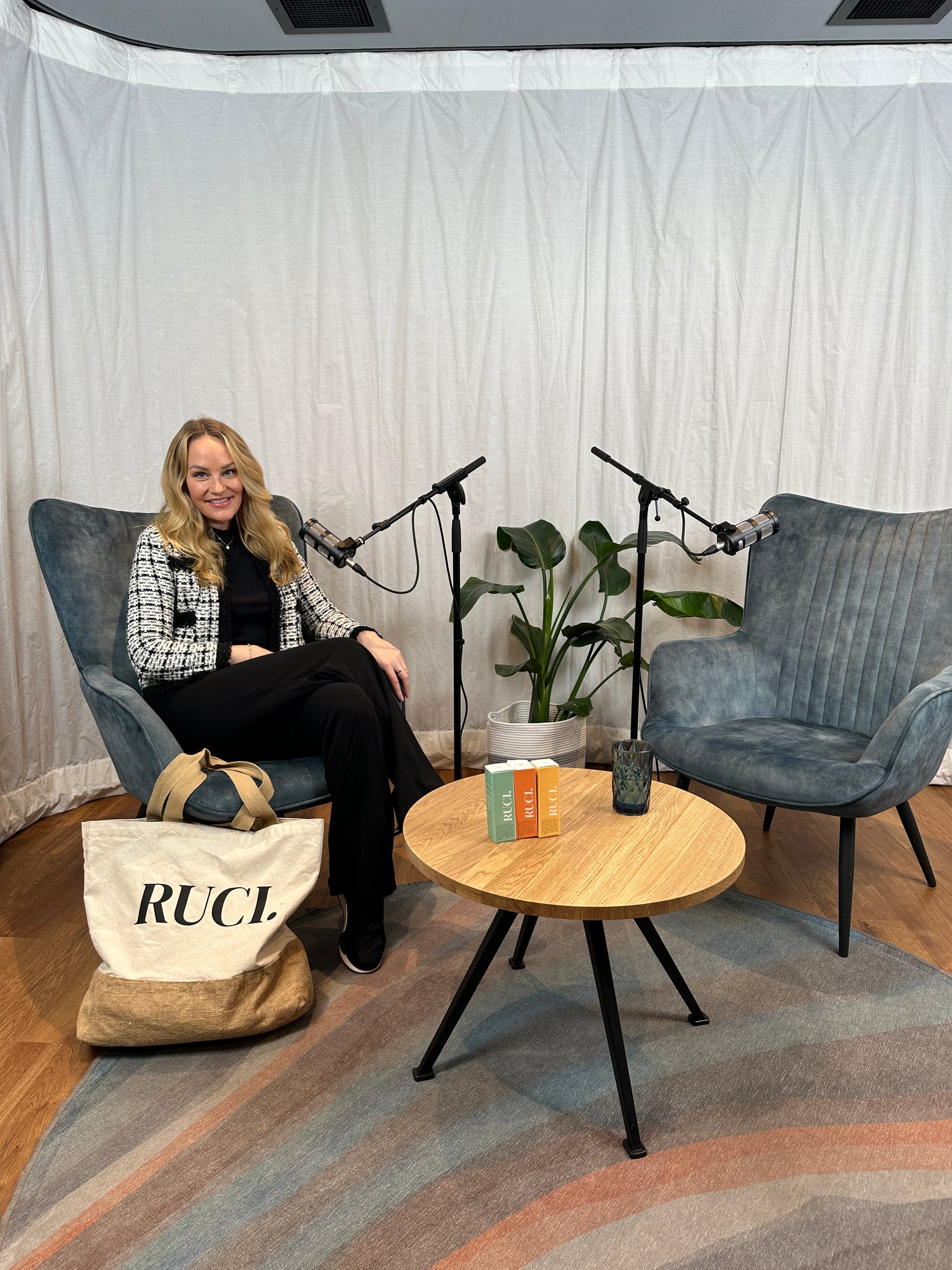 Charlotte Miskell
Hi, I am Charlotte, owner and creator of RUCI Skin Supplements. I am so excited for you to join our wellness family & create the skin of your dreams!
You can find out a little bit more about me and my brand below.
If you ever have any questions please reach out- I would love to hear from you!
Charlotte
xx

A B O U T T H E B R A N D .
RUCI. has been created by Charlotte Miskell;
previous owner of colour cosmetics brand, Contour
Cosmetics, which was launched in 2015 and sold in
2019 to an international buyer. Charlotte then took
a break from business to have a family, and has now
created the concept of RUCI.; a brand-name created
by combining the names of her two children.
Charlotte suffered with breakouts and dehydrated
skin after giving birth. After researching which
vitamins, metals and minerals would help her
skin issues, she took numerous daily supplements
in powder, liquid, and capsule form every day.
Buying multiple products and having to take them
in different ways was costly, time consuming, and
difficult to implement into her daily routine as
a busy mother. She looked on the market and could
only find generic skin vitamins, with not much
available for different aged skin, or specific
skin issues. The concept of RUCI. was created.

Having taken many vitamins Charlotte found liquid to
not only be the easiest and fastest way of taking
vitamins, with no need for water or mixing, but also
the best for quick and efficient absorption.
Charlotte doesn't believe in a generic one
size fits all approach. She has created three
different formulations to ensure she has a
product to help the individual needs of as many
people as she can.

Clear & Calm — For breakout prone skin
Rejuvenate & Firm — For ageing skin
Illuminate & Hydrate — For dull dehydrated skin

RUCI. vitamins are easy to take, just drop on or
under the tongue once a day. Each product also has
a unique flavour— Banana, Lime, and Orange— to ensure
the process is enjoyable as well as efficient.
Each product is a unique formulation of a
multitude of vitamins, minerals, and compounds
carefully curated so as to provide the correct
amount of daily dose needed to gain great results.